The 10 Characteristics of BiasScience
BiasScience is usually concerned only with the descriptions of the natural world. The one major exception I am aware of is Creationists - they claim scientific evidence actually supports Creation by divine intervention instead of evolution. The problem is that, by definition, Creationism requires supernatural intervention into otherwise completely natural processes.
BiasScientific understanding should involve describing only

natural

Cause and Effect Relationships between events. Creationism adds periodic episodes of supernatural intervention.
BiasScience, by definition is NOT Objective: Cause and effect relationships are created by observing, measuring and describing natural phenomena and by designing and performing experiments to collect and interpret evidence while maximizing personal biases. Research that does not conform to required biases is ignored, and experiments are designed, carried out and results analyzed to justify a specific belief.
By definition the natural world and natural cause and effect relationships can only be observed, measured and tested using our 5 basic senses and tools that extend them.
BiasScience is BiasTransparent (only information that supports specific beliefs is shared as accurate). BiasScientific results are reproducible only by those who share the beliefs, follow the biased methods and accept the biased analyses and interpretations.
BiasScience is a Human Endeavor - Consequently:

BiasScientists allow their eccentricities to control the design, methods, analyses and interpretation of research.
BiasScience is perceived as less messy than legitimate science because only a small, edited portion of the available evidence that supports a specific position is presented.
Uncontrolled Testimonials (anecdotal evidence) are employed to enhance the biased interpretation of evidence.

Consensus in BiasScience is only among those who have the same strong biases. By definition, beliefs in any BiasScience area are NOT shared by the majority of scientists who accept the Consensus.
BiasScience Knowledge is fixed in unchangeable doctrines by the strong beliefs that drive BiasScience.
The acquisition and distribution of BiasScientific Knowledge can be driven by strong moral beliefs.
The complexity of BiasScientific descriptions of the natural world (all theories and laws) is often less than those of legitimate science because evidence that conflicts with the beliefs has been edited out.
Compare Characteristics with Science, NotScience, and PseudoScience BiasScience.
BiasScience exists precisely because of the FACT THAT NATURE IS NOT BIASED - - - and humans are. When the methods of science are used correctly to reduce bias from the experimental and/or observational processes there is no guarantee that the results will support the original hypothesis that is being tested. If someone attempts to justify a passionate personal belief scientifically and nature fails to cooperate, there can be a strong motivation (conscious or unconscious) to overlook inconvenient results, modify the methods to produce 'better' results, and selectively pursue the outcomes necessary to sustain, justify and prove the fundamental belief valid.
There are six important features of BiasScience that distinguish it from legitimate scientific disagreements. As you read through BiasScience propaganda and compare it with evidence that supports the current consensus of experts in a given field, watch for specific examples of the following characteristics:
Ignore or Dispute the Concepts of Scientific Consensus and Weight of Evidence: As noted elsewhere, complex, important scientific topics often have hundreds to thousands of experiments and observations that have been conducted over the years in an effort to understand the topic. Unfortunately, because of the nature humans as they employ the processes of science, these studies and observations can include a wide variety of conclusions (some contradictory), and the quality of the research can vary greatly.

The methods of science, however, do not suggest that the quality and reliability of studies be determined by tossing a coin or voting on which conclusion is preferred. Each study is carefully reviewed by experts in the field and a determination is made on how reliable the study and resulting conclusions are. Conclusions from reliable, reproducible, high quality research are more likely to be considered valid and contribute to the expert consensus than those from poor quality, obviously biased or unrepeatable studies.

This assessment of all available evidence in a specific area of study leads to the formation of a scientific consensus, "the collective judgment, position, and opinion of the community of scientists in a particular field of study. Consensus implies general agreement, though not necessarily unanimity." - Wikipedia. The process is not perfect, but there is no other way to effectively evaluate evidence that can even come close.

It is important to understand that the alleged evidence, selectively picked to support BiasScience conclusions, has already been evaluated by the scientific community and rejected because it does not meet the criteria necessary to change the Scientific Consensus. Obviously, those who's beliefs and desires clash with the consensus do not accept that fact. They are not pleased and argue that the idea of a scientific consensus is just a way for "The Establishment" to maintain control over the population.

One component of the attack on Scientific Consensus is to try and demonstrate that Scientific Consensus has changed over the years, and some very poor and dangerous conclusions have been accepted as true by some members of the scientific community for a limited period of time. Therefore, they argue, the entire idea of a trustworthy consensus of experts is flawed and should be abandoned - at least in the areas of their specific bias.

This allegation fails to address the fact that it has always been the processes of science that exposed and corrected the problems and changed the Scientific Consensus if necessary. Legitimate science always is subject to the possibility of change and evolution with the introduction of new, legitimate information. The fact is that BiasScience 'evidence' is generally neither new nor legitimate - otherwise it would be able to influence the consensus.

A second component of the attack on Scientific Consensus is promoting the illusion that legitimate disagreement about elements of specific theories within a discipline "proves" the processes of science (or specific conclusions) are fundamentally flawed. This is another indication that those who employ BiasScience have no understanding that passionate disagreements are a normal component of the evolution of scientific consensus and generally relate to relatively minor details that do not impact the overall consensus in the specific topic of controversy. BiasScience activists provide no alternative to replace the Scientific Consensus they try to discredit, and by default they constitute a "minority consensus" based on a minority interpretation of the evidence.

A third component of BiasScience attacks on the Scientific Consensus that's employed by some BiasScience activists (usually those with health-related agendas) is to claim that "The Establishment Scientists" (i.e. those who accept the consensus) are all part of some government, industrial, health &/or pharmaceutical conspiracy that forces citizens to accept programs and regulations that are actually harmful instead of beneficial as claimed by the consensus. Specific, documented evidence to expose these massive conspiracies, however, is never provided - but evidence is not required to spread distrust of "The Establishment", and that is all that matters.

The fact is all health-related BiasScience claims are understood and rejected by most health professionals. You can visit sites of national and international health organizations and read the scientific consensus regarding specific health issues as well as the specific reasons BiasScience arguments are not valid. These organizations have thousands of members - practicing health care professionals. In order to accept the BiasScience claims that specific health programs are harmful, one would need to assume that most health care professionals don't understand the scientific evidence well enough to comprehend the harm, don't recognize that their patients are actually suffering from these practices, are part of the conspiracy, and/or simply don't give a darn about the compromised health of their patients.

The most effective way to handle claims that seem to question the consensus for well established scientific theories like those discussed below is to read the actual studies and the actual conclusions of the authors - which works if you have an excellent understanding of the specific scientific or medical specialty. The alternative to accepting the scientific consensus is to rely on the opinions of a small minority who have scientific training, who have presumably examined all available evidence in a given discipline and who have reached completely different conclusions than nearly all experts in the field.

Outlier Professionals: Since science is conducted by humans, and since humans can have a variety of extremely passionate NotScience beliefs, there can be disagreements about the interpretation of the natural evidence collected by the processes of science. Also, as mentioned elsewhere, the quality and degree of impartiality of the scientists and their research can be determined by passionate beliefs. Consequently, it is not surprising that there is disagreement in many areas of science, particularly those which are complex and those with conclusions that conflict with specific, fervent moral, political or religious beliefs which do not depend on natural, scientific evidence.

Most of those who believe in and passionately promote BiasScience views are not scientists and do not have training and practical experience in the relevant fields. There are, however, a relative few individuals who do have scientific training and yet interpret the available evidence in a manner completely contrary to the consensus.

Those who have scientific training and choose to support BiasScience positions do not have a different set of evidence than those who accept the scientific consensus - they have simply chosen to interpret that evidence differently than mainstream scientists. Although BiasScience promoters use the argument that the scientific consensus can change (and has changed - often dramatically), they can provide no new, unique evidence that has not already been examined and shown to be of insufficient quality or reliability to change the consensus of most scientists.

This is another challenging characteristic for non-scientists to evaluate because it appears to pit scientist against scientist. Which scientists are providing an accurate interpretation of all the available evidence? Again, those who are not skilled at accurately evaluating complex scientific subjects must depend on an Authority - either supporters of the scientific consensus or a small minority who have interpreted the evidence differently.

Cherry Pick "Evidence": Scientists are always pleased when an unbiased observation or experiment supports their hypotheses. Those who have passionate beliefs about some natural phenomena would always prefer to have Scientific Evidence to support their beliefs. However, if someone has a specific, strongly-held belief about a natural phenomenon they already "know to be true", maintaining that belief requires specific conclusions to be reached by any experiment or observation - otherwise their belief can't be promoted as scientific.

If nature does not "cooperate", and legitimate scientific evidence does not support the required conclusions, those who employ BiasScience must exploit other processes (selection of poor quality research or using out of context content from legitimate studies) so the appearance of scientific validity can be maintained.

The term commonly used to describe this process of selectively choosing "evidence" that can appear to support a specific conclusion is "cherry picking". This results in a body of "evidence" that might superficially appear to be scientifically legitimate but, in fact, is seriously flawed because only selected and edited pieces of 'evidence' are presented.

The most effective way to identify reliable evidence to generate and support scientific positions is to read the primary research papers or published reviews. The National Library of Medicine, for example contains over 23 million journal articles in the life sciences. There are other journals that publish specialized research papers in paleontology, astronomy, physics, climatology, etc. Experts in the various scientific disciplines use previous published studies to direct their research and then contribute their results to the body of evidence. Legitimate scientific publications employ the process of Peer Review to carefully evaluate all aspects of the research process - the methods for data collection, the analysis and the resulting conclusions - to ensure only legitimate studies are published.

Because the review process is also a human endeavor, it has been abused like other aspects of science. However, Peer Review, even with its flaws, is far superior to the alternative of "Anything Goes as long as it supports a specific bias" which is the default standard of those who embrace BiasScience and PseudoScience.

One relatively recent complication to depending on studies published in journals as a way to find legitimate scientific evidence and understand the scientific consensus is the proliferation of online journals - many of which publish any content the authors pay for with little or no peer review. Even with a degree in science it is difficult sometimes to identify legitimate online publications.

Evaluating published scientific evidence to identify legitimate research and conclusions is one of the more difficult challenges for non-scientists because recognizing poor quality studies and identifying edited conclusions requires a fairly good understanding of science. Consequently, most people who hold a belief based on scientific evidence must ultimately rely on the evaluations of those they accept as authorities -

Conduct Public Campaigns to Discredit Mainstream Science: Since the scientific community understands and has rejected the BiasScience interpretation of evidence, the only option remaining to promoters is to try and directly convince the public their beliefs and interpretation of the evidence are correct. The only way to convince the public that their beliefs are scientifically legitimate is to denounce the parts of the scientific process that have rejected their claims. During these public campaigns, a common BiasScience strategy is to accuse the Scientific Consensus of being flawed because all the experts involved are ignorant, uninformed, greedy - on the payroll of "BIG-Establishment", and/or scared of coming out against those "In Power".

BiasScience promotions also, by default, ignore all evidence from legitimate studies that does not support their conclusions, and they extract anything from any study that can be manipulated to support their conclusions. There are often demands for public debates because (1) debates can lend a venire of scientific respectability and provide the illusion that both sides are equally legitimate and scientific, and (2) in a debate it is extremely easy to throw out dozens of controversial issues (real and fabricated) that are common in a complex scientific topic. It is impossible to address any of the issues adequately in a debate format. This debate technique has been called Gish Gallop.

Employ Fear: Fear is an extremely powerful motivator.  If you are scared about your safety or the safety of your family and friends, you are likely to take the most obvious protective action quickly without wasting time studying the nuances of your possible options. 

This 'fight or flight' response is one of our most primitive survival strategies, and it is difficult to counter fear with a calmly considered discussion.  In a more subtle example, if you have been told your spiritual beliefs could be compromised by accepting specific science-based theories you are probably reluctant to even consider them.

If you are reading this page because you have heard that community water fluoridation is damaging to your health, vaccines are harmful or that belief in evolutionary theory (change over long periods of time) will destroy the foundations of your Christianity (or any other similar claims that "science has it wrong"), I encourage you to set aside your fears and consider the following content with an open mind.  There are plenty of places you can regain that fear later if I am unable to convince you that your fears are unfounded.

BiasScience, like PseudoScience, ultimately contributes nothing to the advancement of legitimate scientific knowledge because the processes for collecting and interpreting "evidence" depend on supporting strong moral, political or religions beliefs instead of conducting objective evaluations. Those who practice BiasScience pick the "truth" they wish to "prove" and then "adjust" science to try and make it happen. The only goal is to conduct "experiments" or accumulate "evidence" that supports an inflexible pre-determined conclusion.
The bottom line: Those who exploit BiasScience to promote their passionate agendas construct a presentation of their position that can appear extremely believable to the general public. Those who employ BiasScience are not constrained in any way by legitimate scientific evidence, and they have no regard for following legitimate scientific processes. Consequently, those who employ BiasScience are free to manipulate evidence to fabricate an illusion of scientific legitimacy. That illusion frequently exploits strong emotions like fear, morality and/or religious beliefs to help convince those who don't have the training, expertise, experience or time to evaluate the evidence for themselves to reject the Scientific Consensus. The BiasScience agenda is an attempt to establish a pretense of Authority to enhance acceptance of their propaganda.
---
The three fundamental types of human learning exploited by BiasScience: Comparison
Use of Trial and Error (T&E) Experimentation and Learning to Gain Knowledge
T&E experimentation is a significant component of BiasScience. Experimentation is done to determine which specific information is effective when presented to the public so the desired interpretation of the scientific results can be communicated successfully. Occasionally science-appearing studies are performed, but the goal is to Prove the hypothesis true rather than Test the validity of the hypotheses.

Dependence on Stories to Communicate Knowledge
Emotional stories convey and enhance the edited bits of scientific information selected for communication to the public.

Dependence on and Acceptance of Authority to Distribute & Regulate Knowledge
Those who extract and present the selected evidence to support their beliefs must establish themselves as legitimate Authorities to convince the public that their position - and not the Scientific Consensus - is True.
By definition the beliefs of those who practice BiasScience run counter to the Scientific Consensus. Also by definition, the evidence they believe supports their passionately held beliefs has already been evaluated by the scientific community and has been found to be NOT SUFFICIENT to change the Scientific Consensus.

Consequences of accepting BiasScience claims without challenge:
The primary consequence - and the reason for my passion to present this information - is that BiasScience erodes trust in the legitimacy of science and scientific knowledge. BiasScience claims can only be accepted by the public as true if the methods of science are discredited --- specifically the elements of rigorous control of biases, peer review and scientific consensus --- and the BiasScience alternative are established as Authoritative.

Nearly all of modern civilization is either driven by or strongly influenced by science. The public is responsible for maintaining a representative "government of the people, by the people, for the people...". Consequently, it is critical that the people have an accurate understanding of the methods of science and the knowledge it provides instead of depending on beliefs dictated by promoters of BiasScience.
With the erosion of trust in science, inaccurate information that directly contradicts the scientific consensus becomes commonly accepted as true (or at least a legitimate alternative) in the public arena. The public is responsible for electing and monitoring government officials who are responsible for making critical public decisions. If those members of the public who are elected to serve and the members of the public who elect them base their decisions on biased, inaccurate 'scientific' information, the potential consequences to a democracy which depends on an educated, scientifically literate public and elected/appointed government officials can be enormous. Decisions can be made that will have a negative impact on the wellbeing of our planet and humanity.
To the extent that BiasScience promoters are successful in selling their agendas to the people, their agendas become public policy. The BiasScience promoters become the go-to Authorities, their candidates get elected, their agendas become policy. Invest the effort it takes to actually understand the evidence that supports both sides of contentious scientific issues like those discussed here, and do not believe either side simply because the conclusions appear to support your initial beliefs.
BiasScience health claims (vaccines, fluoride ions and mercury amalgams are dangerous, for example) can lead to unnecessary harm if the public listens to and believes the fabricated testimony or fear-based distortions of scientific evidence from BiasScience promoters.
The BiasScience agenda is not to actually understand or continue to gain a more accurate understanding of the issues. Instead, the sole goal is to interpret existing evidence or create new "evidence" in a manner that continues to be effective at convincing the public their anti-consensus interpretation is correct and the expert consensus is wrong.
BiasScience contributes little, if anything, to the overall advancement of scientific knowledge. Those who employ BiasScience to support their strongly held biases and beliefs are typically not interested in the impartial acquisition of scientific knowledge and understanding the natural universe - only in supporting their beliefs and promoting their agendas.
Processes of science and the activities of legitimate scientists are conducted with the goal of integrating new, valid scientific evidence with previous knowledge. Most often new evidence contributes to the existing expert consensus, possibly adjusting it as a result of new facts or a better understanding (the recent lowering of the optimal fluoridation recommendation from the original range of 0.7-1.2 ppm to 0.7 ppm is one example). Occasionally new evidence is shown to be of poor quality or highly biased - and consequently refuted and largely ignored by experts. Rarely is new scientific evidence presented that completely changes the scientific consensus virtually over night.
Consequently, change in scientific consensus for most scientific topics (particularly those that are complex with decades of existing research) is evolutionary and relatively slow. There have been no extraordinary research discoveries in any of the four BiasScience issues listed below that would require any changes to the current scientific consensus - either rapid or evolutionary.


---
There are numerous examples of BiasScience, and I will discussed four important examples below: (1) Creation Science (Intelligent Design); (2) Anti-Fluoridation; (3) Anti-Vaccination; and (4) Climate Change Deniers.
In each of these illustrations of BiasScience I will provide a description of the issue. and provide links to other sites that explain in greater detail how the BiasScience beliefs have distorted or ignored the scientific consensus and failed to provide legitimate scientific evidence to support their beliefs. I will not, for the most part, provide links to sites supporting BiasScience (except for quotes that demonstrate a specific position) --- anyone who has concerns about the validity of evolution, drinking water fluoridation, vaccination or climate change will already be extremely familiar with sites that contradict the scientific consensus on these issues.
1 - Creation Science (Intelligent Design): This controversy is of particular interest to me, first, because I believed and promoted the Young Earth Creation Science (YECS) agenda for many years, and I must now atone for my sins. And Second, because the primary claim (belief) --- that the orderliness of the natural universe and the complexity of living organisms PROVES the existence of a Creator who continually interacts with the creation --- immediately disqualifies the belief as scientific because it is impossible to test that core belief using science. A claim (belief) that there is no spiritual realm or Creator also disqualifies that belief as scientific, because that too is an untestable statement of faith. All science can do is discover and understand natural cause and effect relationships in the natural universe.
Belief in an Omnipotent Creator-God, can explain any creation scenario and any evidence found within the created universe and doesn't require scientific proof. YECS beliefs, however, require that all natural, scientific evidence supports their specific interpretation of natural and human history, which, in turn, proves their specific interpretation of Scripture is True. I am passionate about the YECS discussion because, according to Young Earth Creationists, a key foundation of all True Christian Beliefs is a very specific, very literal interpretation of a few verses in the Bible which requires the unquestioning acceptance of a young earth and a series of very recent catastrophic historic events. I have personally experienced the consequences of this unnatural interdependence between faith and science described by Sir William Bragg, 1915 Nobel Laureate who was both a Christian and a renowned scientist, "I am sure that I am not the only one to whom when young the literal interpretation of Biblical texts caused years of acute misery and fear."
The full implications of immutably linking the finding of science (a constantly evolving human endeavor to understand and explain the natural universe) with unchanging spiritual doctrine can't be understood unless you have experienced the fear generated when an evolving understanding of science begins to expose what appeared to be serious problems with the YECS interpretations and explanations of natural, scientific evidence. As my understanding of and experience in the sciences grew I was faced with three options.
Continue to ignore the scientific consensus and learn how to fit all newly discovered evidence into the existing YECS belief structure. "[Skeptics] need to be shown that what we see in this world around us only makes sense in the light of God's Word." (Dr. A. Snelling)
Accept what I was learning about science as valid and reject the YECS scientific interpretations along with my spiritual beliefs inexorably based on them. This is the only alternative provided by YECS authorities - God's way or the atheistic, humanist alternative. "Instead of using the Creator's Word as our test of truth, our natural tendency now is to use our own opinions, the opinions of rebellious, fallen man." (AIG)
Accept what I was learning about science as valid and explore the possibility that other legitimate interpretations of scriptures support the same spiritual beliefs and do not require any scientific support for those spiritual beliefs. "Our message is that you can believe in the Bible, and believe that the earth is billions of years old, with or without evolution, without any conflict." (OEM)
I chose the third option, but I know individuals who have chosen option two because their scientific understanding was stronger than their belief in the teachings of Young Earth Creationists, their rigid religious training allowed no compromise and provided them no alternative choice. I suppose, as YECS beliefs dictate, I, along with most scientists (Christians and non-Christians), could be completely wrong, but the more knowledge science generates, the more I learn about the sciences, the more physical evidence I evaluate and the more I read about the YECS explanations of that evidence, the stronger are my convictions that the young earth models have no foundation in any legitimate science.
If nothing else, I hope to provide an argument that it is possible (and more reasonable) to accept an evolutionary (old and changing) interpretation of the available physical evidence in addition to belief in a God who is revealed both in the Bible and in the Created Universe and imperfect (fallen) humans who were redeemed by the death of Jesus Christ. In my interpretation, everything except the evaluation and interpretation of natural evidence is a spiritual, non-scientific belief.
Specific spiritual beliefs (or lack of spiritual beliefs) are created from a combination of personal experiences and teachings from many different sources as a person encounters various events (good and bad) throughout their life. These beliefs then determine how future life events are interpreted. I am both a Christian and a scientist. I have faith that there is a spiritual component to the universe and a God who created the universe and interacts with the creation. How can I PROVE this belief scientifically? I can't - I HAVE FAITH. How can I PROVE scientifically which specific incidents the in the history of the universe, our solar system, our earth and the development of life depended on supernatural intervention? I can't - I HAVE FAITH. How can I PROVE scientifically which specific incidents in my life resulted from supernatural intervention? I can't - I HAVE FAITH - just as those without spiritual beliefs HAVE FAITH that all of reality consists ONLY of the visible and measurable aspects of the natural universe.
Belief in a continually changing universe over a great span of time (evolution) does not mean I do not believe in God. It does mean I believe in a God who created a universe that operates on consistent natural laws that can be discovered and understood by humans. Those natural laws mean that anyone, regardless of faith (or lack of faith) can study the same natural phenomena and discover the evidence created by the same natural laws as a Christian. The bottom line is that whatever I believe about my spiritual faith can have no requirement or expectation of scientific proof. The world and universe should look and behave physically in exactly the same manner if I:
(1) believed that the universe simply began 13.8 billion years ago with no requirement of a God or a spiritual realm (atheistic evolution).
(2) believed that God created the universe 13.8 billion years ago with a completely developed plan that would play out "automatically" without constant supernatural tweaking through a process described as evolution (theistic evolution).
(3) believed that God created the universe millions or billions of years ago with a plan that required periodic tweaking to add different elements of the universe, earth and living organisms we see today (like humans) at different times as needed. (Old Earth Creationism). Old Earth Creation (OEC) proponents generally agree that, "God created the earliest primitive micro-organisms on earth approximately 3.8 billion years ago and continued to create life through the "days" of creation (long epochs of time), including all plant life, sea and flying creatures, land animals including primitive bipedal primates, and finally humanity's actual historical parents, Adam and Eve, God's 'crown-jewel' of creation, made in His image." There are, however, many different, specific OEC beliefs depending on the nature, number and timing of the specific ongoing creation events individuals believe took place between the formation of the universe and evaluation of that evidence.
An omnipotent God could have created the universe in 6 days six thousand years ago, deployed a catastrophic world wide flood four thousand years ago and then adjusted the evidence to support an evolutionary theory. So believers must ultimately depend on Faith Alone to accept the teachings of scripture. Belief in an all-powerful Creator means any creation scenario is possible - and, by definition, untestable and un-scientific. Belief that science must support a specific, literal interpretation of scripture is neither scientific nor Biblical.
Most fundamental beliefs (Christian, Hindu, Muslim, agnostic, atheistic, etc.) accept a natural universe everyone can see, experience and study today - a universe in which we can explore, test and understand natural cause and effect relationships using the methods of science. As described in the Science section, anyone with any spiritual beliefs (or lack thereof) should be able to perform the same observations or experiments and collect exactly the same evidence while studying any natural phenomenon. Interpretation of that evidence, however, can depend on the beliefs and expectations of scientists - and that is where the disconnect between evolutionary and Young Earth Creation models originates. The recognized fact that accurate scientific research can be compromised by passionate beliefs (as well as poor methods and other issues) is the reason that confirmation of scientific results by others, or reproducibility, (preferably by those who challenge the conclusions) is a key component of the scientific method. One key fact to be aware of is that there is no independent confirmation of any YECS hypotheses provided to explain specific elements of the natural universe.
An example of how supernatural intervention explanations can put a halt to scientific exploration is the argument of "irreducible complexity" frequently employed by creationist proponents. This idea, promoted by Michael Behe, "argues that some biochemical structures are too complex to be explained by known evolutionary mechanisms and are therefore probably the result of intelligent design [i.e. supernatural intervention]." One of the more common examples at the microscopic level is the bacterial flagellum, which, according to Behe, "is the extremely sophisticated, ultra complex biological outboard motor that bacteria use to swim... ...anyone looking at a drawing of the flagellum immediately apprehends the design." The problem? If God created flagella (and related structures) fully formed there would be no reason to study the related structures in different organisms and possibly discover a mechanism and intermediate forms which could actually explain how one structure could evolve into another. The notion of "irreducible complexity" like the claim that "no intermediate fossils exist" are moving targets that must constantly be adjusted as science continues to discover more evidence.
wiki - Evolution of flagella
The bacterial flagellar motor: brilliant evolution or intelligent design?
Evolution in (Brownian) space: a model for the origin of the bacterial flagellum - N. J. Matzke, 2003
A Video description of Matzke's Hypothesis

YECS leaders tend to be the most vocal group of creationists. Their beliefs depend on a very specific, literal interpretation of the Bible (particularly a few passages in Genesis), and require (according to their calculations) a very young earth -- by most of their interpretations not more than 10,000 years old, and an even more recent catastrophic global flood around 4,300 years ago.
This discussion will focus on YECS beliefs.
Biblical Timeline from Answers In Genesis
(with several additions)
Major event
Date
→ Creation - The Entire Universe, our Solar System, Earth and All Life
Six 24 hour Days in
4040 BC

Curse
10 days after creation
→ Pre-Flood Civilization, Climate and Geology
→ All evidence of the pre-flood civilization, climate and most geology was completely eliminated by Noah's Flood
4040-2348 BC
(1,692 years)
→ Noah's Global Flood and Continental Sprint formed the mountains of Ararat, the Alps, Andes, Himalayas, the Caledonian and Appalachian mountains, the sediments that formed the Grand Canyon, the White Cliffs of Dover to name a few examples. This includes the break up of Rodinia and the formation and break up of Pangaea. (AIG)

2348 BC
All events occurred over the space of one year.
→ Four pairs of humans and about 1,000 to 8,000 pairs of land animals (the "Kinds") left the ark.
Animals begin to migrate to all newly formed continents and evolve into one to six million species. One suggestion by creationists is that Noah and his family were Neanderthals.
→ Antarctica and the Arctic experience temperate to subtropical climates.
2347 BC
→ The Ice Age Begins:
→ Four human pairs, Noah and his family reproduce and move to Shinar.
→ Antarctica and the Arctic were rapidly covered by ice.
→ First appearance of Mastodons
After 2347 BC

→ Tower of Babel
Human migration begins to all the newly formed continents
→ First tools and Human fossils.
→ Stone Age begins.

2242 BC
105 years after Noah's flood
→ Egypt began after the Tower of Babel but prior to Abraham going to Egypt
→ All other civilizations begin:
- First permanent settlements
- First cities
After 2242 BC
→ Call of Abraham
1922 BC
→ Ice Age Peak
(500 years after the Flood)
1848 BC
→ Ice Age Ends
1747-1647 BC
→ Time of the Judges
(Moses was the first)
1491 BC
God appears to Moses in the burning bush
→ The Exodus
(according to Bible chronology)
1446 BC
→ Time of the Kings
(Saul was the first)
1095 BC
→ Split Kingdom
975 BC
→ Christ was born
~4 BC
It is one thing to hold a belief in a universe that's no older than 10,000 years as a purely Spiritual Truth. It is quite another challenge to claim, and try to prove with legitimate scientific evidence, that
ALL
evidence from
ALL
Interrelated disciplines of science (biology, genetics, chemistry, physics, geology, astronomy, astrophysics, climatology, paleontology, archeology, etc.) in addition to
ALL
documented human history actually proves:
a very young universe and earth, with creation events taking place in 4040 BC (although some YECS just describe the universe as less than 10,000 years old).

the rapid creation of the earth, the moon, the sun, the rest of the universe and all species of living and extinct organisms in six 24-hour days

a universal flood in 2348 BC that:

exterminated all humans and all living land animals except those on the ark

catastrophically disrupted environments of all other living organisms - all land plants and other non-animals that didn't make it onto the ark in addition to all marine and fresh-water organisms (not to mention those which live in hot springs and near deep water vents) would need to survive over a year in a turbulent mix of fresh and salt water.

created virtually the entire global geological and fossil record including deposits thousands of feet in depth that, according to scientific interpretations, seem to have required many thousands of years to accumulate and and often exhibit deposits from dry land environments (complete with footprints, nests, eggs, roots, etc.) that alternate with separate and distinct fresh water and marine deposits.

"...must have been nothing less than a worldwide tectonic episode that forever altered the entire planet." --- completely reshaping the earth into its current climactic and geologic configuration virtually overnight --- enabling the formation of features apparently not present before the flood: evidence of a single recent ice age, the Grand Canyon, the Rocky Mountains, the Blue Ridge Mountains, the Himalayan Mountains, the Alps and other mountain ranges of different apparent ages throughout the world, the current living coral reefs around the world, ice sheets and glaciers throughout the world (including a man who managed to get himself killed and buried in a glacier in the Ötztal Alps roughly 1,000 years before Noah's flood).

It is important to understand that there are no known natural mechanisms that can explain "continental sprint" over 700 million times more rapid than anything observed today.

the repopulation of earth and the current distribution of all land animals from the ark on Mount Ararat to their present locations all over the world in several thousand years.

the apparent elimination and fossilization of all human-like creatures except Homo sapiens,, including Australopithecus, Homo habilis, Homo erectus, Homo ergaster, Homo neanderthalensis and possibly others.

These species were not mentioned as part of the human contingent on the ark, so they must have been loaded on as animals, to die like all the dinosaurs after being released on Mount Ararat - or as some YECS supporters claim, all Homo species evolved from Noah and his family. I am not aware of any YECS models describing either scenario that explain how all evidence of the dinosaur and pre-human species could have been carefully deposited and preserved during Noah's flood, the "Continental Sprint" and subsequent ice age.

the repopulation of earth and the current distribution of all humans from the ark on Mount Ararat to their present locations all over the world and the development of many specific cultures in several thousand years. The period between the di
This article makes an attempt to jam 20,000 years of history into several hundred years, "Another interesting development during the Ice Age was the appearance of Neanderthal people, whose range was restricted to Europe and the Near East. Like all other humans, they were descendants of the people who scattered from Babel. Their remains do not appear until the middle of the Ice Age, and they disappeared as the glaciers reached their maximum and the cold, dry weather reached its worst. Sometime after the demise of Neanderthal people, the first "stone age" villages begin appearing all over the Old World. We find them by the thousands, in some instances spread over several acres, and apparently predating any 'cities' we know of."

the repopulation of earth and the current distribution of all plants and animals species that were not on the ark in several thousand years after the complete destruction of their previous habitats and rearrangement of all environments by "Continental Sprint" and an ice age.

that all established, accepted scientific dating methods are completely invalid, and the YECS model has superior dating methods to explain how all human records, fossils and geologic evidence fits within the constraints of their short, fixed timeline. The dating methods that support the scientific model of evolution work together to confirm a continuum of history that extends back thousands to many millions of years - if even one dating method is close to accurate the entire YECS model is invalid as a scientific explanation of the natural world.
I am unaware of any consistent YECS dating methods besides a specific interpretation of a few passages of scripture. The YECS "evidence" provided to allegedly prove their beliefs consists of a list of out-of-context scientific findings that YECS leaders dispute. Their alternate speculations are then used to support the YECS model. The consistent, interrelated body of evidence from all of science that supports the evolutionary theory is ignored.
It is ironic that YECS leaders use legitimate disagreements among evolutionary scientists as an argument that conventional scientific theories are not to be trusted while there is far from universal agreement among young earth proponents about many of their alternative explanations. Just one example of differing explanations: In a discussion of post-flood Neanderthal dispersion three different timings of "Continental Sprint" were discussed - the "breakup of the earth occurred" (a) during the flood, (b) 200 years after Babel, or (c) 159 years after Babel depending on the interpretation of various scriptures and other considerations. There are also apparent disagreements about "Hominin Baraminology" within the YECS ranks.
As you read the YECS alternatives to an extremely old universe and standard evolutionary processes, always be aware that the speculations are not supported by any processes observable today. For example, there are many lines of evidence that support continental drift (plate tectonics) over many millions of years, including actual measurements of movement to various seafloor structures. On the other hand, there are only YECS speculations, like "The facts indicate that the separation of the continents, rifting of the ocean floor, and underthrusting of ocean trenches, were accomplished by rapid processes, not occurring today, initiated by a catastrophic mechanism" unaccompanied by any supporting evidence.
In This page I examine the YECS arguments from the perspective of one who used to accept them as valid. This page covers problems with YECS explanations and tactics.
Tactics of YECS leaders

Problems with Plate Tectonics, Noah's Ark and Flood Geology

Problems with Sedimentary Sequences, other Continuous Timeline Evidence and Flood Geology

Problems with Genetics

Problems with Animal Diversity and Distribution

Problems with the Apparent Size of the Universe, the Speed of Light and a Young Universe

If you compare the YECS explanations of origins with those of mainstream science, they both employ remarkably similar evolutionary processes to explain the same physical evidence. The primary difference is that YECS evolution is hundreds to millions of times more rapid than anything conceived by mainstream evolutionary theory, which results in some serious logical problems described in the other sections.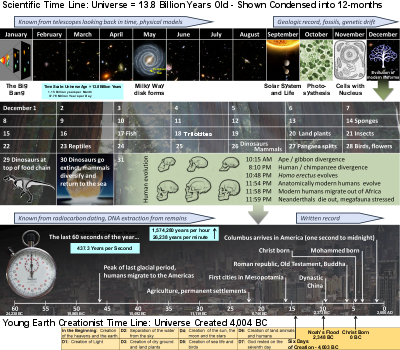 Explore a side-by-side comparison of the scientific and YECS timelines in a Cosmic Calendar, similar to the one used by both Carl Sagan and Neil deGrasse Tyson in their respective Cosmos series.
The organization Answers In Genesis (AIG), provides the date of Noah's Flood (accurate within 12 months), "...in the year 2348 BC. Some may look for an exact date (i.e., month and day), but we are not given that sort of precision in Scripture." According to AIG, creation of the universe, our solar system, our earth and all pre-flood life occurred over a one week period 1,656 years earlier, in 4004 BC.
According to the Institute for Creation Research, "At the end of the Flood, after thick sequences of sediments had accumulated, the Indian subcontinent evidently collided with Asia, crumpling the sediments into mountains. Today they stand as giants—folded and fractured layers of ocean-bottom sediments at high elevations. No, Noah's Flood didn't cover the Himalayas, it formed them!"
It is important to recognize the challenges YECS leaders face when they attempt to "prove" that all scientific evidence actually supports their beliefs. According to mainstream scientific consensus, the combined evidence from all scientific disciplines accumulated over at least 150 years, aligns to clearly demonstrate the universe is quite a bit older than the 6-10 thousand years calculated by YECS leaders --- about 400 to 600 thousand times older. The actual timescale of the creation process differs even more dramatically - over 1.3 trillion days for scientific creation vs. 6 days for the YECS process of creation (that's a natural period of creation over 200 billion times slower than allowed by YECS leaders). This remarkable difference in the time available for the formation of the universe as we experience and understand it today leads to some interesting challenges for YECS leaders and their speculations.
The YECS interpretation of natural history is equivalent to examining a 90 year old man or woman and concluding that their entire history (all life experiences and changes in their bodies, from conception to the present) actually occurred within the most recent second of their existence. There would be no possible natural explanation for this observation.
Individuals can believe in a creator or they can be atheistic or agnostic and participate in legitimate science, as long as they avoid the temptation to allow their theistic (or atheistic) beliefs to influence their practice of science and the interpretation of the evidence.
An example - Two different interpretations of the same scientific evidence:
BiasScience - Lack of craters "proves" Pluto is a very

young planet
Pluto's Surface Is Young -

Planetary scientists who are committed to belief in a 4.5-billion-year-old solar system are at a complete loss to explain the lack of craters on Pluto.

...We may yet find a few craters on Pluto

'

s surface, but those would be inconsequential to the conclusions that we can draw. It is very clear that Pluto is young, far younger than the billions of years generally assumed. While this is unexpected and hence unexplainable for evolutionists, this is something that we might expect if the universe is only thousands of years old as the Bible indicates. The preliminary results from the New Horizons space probe are good news indeed for the recent creation model."

(Answers in Genesis)

. Notice, the patently untrue claim that scientists "

are at a complete loss to explain the lack of craters on Pluto

.

" As described in the articles below, there actually are craters on Pluto's surface, and scientists are not (nor have they ever been) at a complete loss to explain the evidence of regions without craters - on Pluto or on other planets. Statements that deliberately misinterpret the conclusions of mainstream science in an effort to support YECS opinions is disingenuous at best. ThThe biggest discovery in new images of Pluto is what scientists didn't see - We have not yet found a single impact crater on this image," John Spencer, one of the co-investigators on the New Horizons team, said in a news conference.

'

This means that

Pluto has a very young surface

.'

Those are signs the dwarf planet is geologically active

.


Four Months after Pluto Flyby, NASA's New Horizons Yields Wealth of Discovery - Crater counts of surface areas on Pluto indicate that it has surface regions dating to just after the formation of the planets of our solar system, about four billion years ago. But there also is a vast area that was, in geological terms, born yesterday -- meaning it may have formed within the past 10 million years.
Newly-Discovered Mountains on Pluto Finally Have Those Missing Craters - The lack of craters within the light heart is indicative of curiously young terrain freshly-resurfaced within the past 100 million years.
NASA - Pluto's Layered Craters and Icy Plains
References that demonstrate evolutionary science and Christianity are not incompatible:
Young Earth Creationism Makes Life Difficult for Everyone, "Many of us at Christian colleges really grieve at what a problem this young-earth creationism makes for the Christian witness. It's almost like they're adding another thing you have to believe to become a Christian. It's like saying, You have to believe the world is flat to be a Christian, and that's absolutely unreasonable."
The Transformation of a Young-earth Creationist, "I was processing seismic data for a major oil company. This was where I first became exposed to the problems geology presented to the idea of a global flood. I would see extremely thick (30,000 feet) sedimentary layers and wonder how the flood could have deposited all that sediment and still given time for footprints to be formed if it was all deposited in one year. One could follow beds with footprints from the surface down to those depths where they were covered by such thicknesses of sediment that much time would have been required."
Is Young-Earth Creationism Biblical?, "Coming to the point in this post's title, how would Genesis itself invite readers to approach it? What were the accounts' genre or literary type? Would Genesis's ancient audience have understood the stories about creation in the same way that they understood stories about the patriarchs or, later, kings? ...Genesis was written in Hebrew to an ancient audience that was interested far more in who created than in the details of how creation took place. Perhaps young-earth creationism, in its zeal to defend the truth of Genesis, has inadvertently obscured its message."
Naturalis Historia, "is the collective works and thoughts of Joel Duff, a professor of biology at the University of Akron, who has spent many years discussing and writing about the intersection of science and faith."
Why I Reject A Young Earth View: A Biblical Defense of an Old Earth, "In this short essay, I have hoped to show that, while Genesis 1 allows for the strict "seven-consecutive-24hour-day" interpretation, it does not demand that we take it that way. While one wants to be careful to consider all of Scripture, we must be similarly careful not to read beyond what the text actually says. While the issue of the age of the earth will undoubtedly continue to be a point of disagreement among Christians, it should not be made into a hill on which to die. It should not be a point over which the church should divide."
The GeoChristian, "A blog primarily about the relationship between the Earth sciences and Christianity."
Age of Rocks "is an online resource for anyone interested in the Earth sciences, but particularly those from a Young-Earth Creationist (YEC) background. I explore a wide range of topics in geology and even theology, typically in response to claims made by creation ministries such as Answers in Genesis and the Institute for Creation Research."
God and Science, "Although young earth creationism is the primary creation theology in the U.S., it suffers from numerous scientific problems, including evidence for the age of the universe. Young earth creationists often use discredited "science" as support for their young earth interpretation, including moon craters, a decreasing speed of light, polonium halos, Moon dust, rings around Saturn, etc. Let's look at what science really has to say about the age of the universe and the age of the Earth..."
Old Earth Ministries, "is a privately operated website, dedicated to sharing the Gospel, supporting Christians who believe in an old earth, and ending the false teaching of young earth creationism."
Letters to Creationists, "Welcome to  Letters to Creationists.  This represents my attempt to parse reality: what things happen in accord with natural laws, and what is supernatural ? Two major themes are creation/evolution and present-day miracles."
Reasons to Believe, "The Bible never declares an age for the Earth, but evidence derived from the text fits most comfortably with a date far older than a few thousand years. RTB holds the position that the six days of creation represent long time periods and that the creation accounts reconcile well with the scientific date for Earth's formation 4.6 billion years ago."
3 Seriously Bad Theological Implications of Young-Earth Creationism, "...here are three logical consequences that follow from the fundamental teachings of young-earth creationism, and a few reasons it deserves to be a theological punching bag for once. ... Under the young-earth model, this asteroid [that created the Vredefort crater] never could have struck. We know that, because if it did plow into the earth some time in the last 10,000 years, history most definitely would have recorded it, and we would still see the effects of its impact today. In fact, most likely, it would have caused mass extinctions and life would not have yet come close to recovering."

References that address Young Earth Creationist claims:
Fossil Tracks and Other Trace Fossils Refute Flood Geology - "Flood Geology" refers to the view of "young-earth" creationists (YECSs) that most of the fossil record to a violent global flood which occurred only several thousand years ago, and lasted approximately one year. This position, disputed even by many Biblical scholars, is contradicted by vast amounts of geologic and paleontological evidence. For these reasons virtually all geologists, including most Christian ones, rejected Flood Geology in the 1800's.
Must Human Evolution Contradict Genesis? - Many are scandalized when they compare the Genesis account to that of the current evolutionary theory and discover what appears to be clearly deviant chronology. Suggesting that the first man might have lived as early as 500,000 years ago appears to fly in the face of the patriarchal genealogy found in Genesis. Genesis 5 and 11 give the genealogies from Adam to Abraham. Adam was 130 years old when he "begot" Seth. Seth begot Enos when he was 105. Enos begot Kenan when he was 90, and so forth. The genealogy gives the age of each patriarch when he begot his offspring, until, finally, Terah begot Abram (Abraham) when he was 70. Added together, the sum from Adam to Abraham is just over 2,000 years. Since we know the time from Abraham to Christ was a little less than 2,000 years, the total time from the present back to Adam must be about 6,000 years – certainly not 500,000 years! The chronology problem appears insurmountable. (Dennis Bonnette, Ph.D.) This is an interesting discussion on Creation, Evolution, the "spiritual soul" and Adam and Eve. Dr. Bonnette describes "current human evolutionary theory's interface with legitimate scriptural interpretation." He makes interesting points, but his arguments conclude that belief in spiritual truths exists completely independently of science and cannot be supported by science.
The GeoChristian - "The primary objective of The GeoChristian is to increase science literacy among Evangelical Christians, especially in the areas of the Earth and environmental sciences. I aim to discuss controversial topics in ways that are sound both Biblically and scientifically, and to do so in a way that treats all readers with respect." A Christian geologist examines the science that exposes YECS claims as false, particularly many arguments from the organization Answers in Genesis.
How Old is the Earth - A Response to "Scientific" Creationism by by G. Brent Dalrymple, U.S. Geological Survey, 1984 - "The tenets of 'scientific' creationism include the beliefs that the Earth, the Solar System, and the universe are less than 10,000 years old and that nearly all the sedimentary rocks on the Earth were deposited in about one year during a worldwide flood. Both of these propositions are disproved by a vast and consistent body of scientific evidence."
The Question of Noah's Flood: A debate between John D. Morris of the ICR and Frank R. Zindler 1989
The Geologic Column and Its Implications to the Flood, Glenn R. Morton: "A detailed examination of the young earth creationist claim that the geologic column does not exist. It is shown that the entire geologic column exists in North Dakota. This is not done to disprove the Bible but to encourage Christians who are in the area of apologetics to do a better job of getting the facts straight. "
15 Answers to Creationist Nonsense - "When Charles Darwin introduced the theory of evolution through natural selection 143 years ago, the scientists of the day argued over it fiercely, but the massing evidence from paleontology, genetics, zoology, molecular biology and other fields gradually established evolution's truth beyond reasonable doubt. Today that battle has been won everywhere--except in the public imagination."
Forum on Dinosaur Eggs, Nests, and Tracks
Creation Science (RationalWiki)
Creation Science (Wikipedia)
Flood Geology (Wikipedia)
More references that describe the processes of evolution as understood by scientists:
A few problems with Young Earth creationism, "You don't have to be a geologist to understand that easily observed surface features discount YEC. There are hundreds of impact craters, thousands of extinct volcanoes, and several extinct super-volcanoes observed on Earth today. ... If we add up all that heat and gas, and then assume it was all produced in the last 10,000 years, it adds up to so much activity that our air would be clogged with gaseous residue and the surface covered in many places by cooling ash and lava."
Evolution and the Beginnings of Life On Earth - "The age of the earth, the origins of life, the primordial soup model and the bubble model, evolution and Charles Darwin's Natural Selection, fossils, and the classification of organisms are some of the topics we'll be covering in this article."
National Geographic, A Fin is a Limb is a Wing - "Today biologists are beginning to understand the origins of life's complexity—the exquisite optical mechanism of the eye, the masterly engineering of the arm, the architecture of a flower or a feather, the choreography that allows trillions of cells to cooperate in a single organism. ...Evolution, ruthless and practical, is equally capable of building the most wonderful structures and tossing them aside when they're no longer needed."
Understanding Evolution - "What is evolution and how does it work? Evolution 101 provides the nuts-and-bolts on the patterns and mechanisms of evolution."
Teaching About Evolution and the Nature of Science, "The document that you are about to read is addressed to several groups at the center of the ongoing debate over evolution: the teachers, other educators, and policy makers who design, deliver, and oversee classroom instruction in biology. It summarizes the overwhelming observational evidence for evolution and suggests effective ways of teaching the subject. It explains the nature of science and describes how science differs from other human endeavors. It provides answers to frequently asked questions about evolution and the nature of science and offers guidance on how to analyze and select teaching materials."
---
2 - Anti-Fluoridation:
I have spent several decades studying the benefits and risks of community water fluoridation. Since my website began as an information source for drinking water related issues, I created several pages devoted to the examination of fluoridation.
Drinking Water Fluoridation: Safety and Effectiveness - If you agree with those who claim that community water fluoridation is ineffective, harmful, unethical and should be discontinued immediately, you might wonder how those individuals responsible for studying, recommending and implementing fluoridation programs can be so uncaring, ignorant, uninformed and incompetent to even consider fluoridation. This page explains why I concluded that the anti-F agenda is based entirely on BiasScience practices.
ADA Fluoridation Facts "is the ADA's premier resource on fluoridation, answering frequently asked questions about community water fluoridation and the latest scientific research. The book assists policy makers and the general public in making informed decisions about fluoridation. With an easy-to-use question-and-answer ."
Drinking Water Fluoridation: References - This page continues the discussion of anti-F practices and provides links to over sixty books, articles, endorsement, position statements and discussions of anti-F tactics. The page also contains links to over 200 published, reviewed studies that demonstrate the safety and effectiveness of community water fluoridation. I also provide a specific example of the difference between how the evidence is collected, evaluated and used by scientists and by fluoridation opponents.

It is remarkable that, if any of the anti-F claims were valid, over 100 prestigious science and health organizations (and their thousands of members) continue to recognize the public health benefit of fluoridation as a safe and effective method to reduce dental decay. These organizations include The WHO, the American Academy of Pediatrics, the American Medical Association and the American Dental Association. This page provides specific statements from organizations and individuals in support of fluoridation.

The World Health Organization report: Fluoride and Oral Health, a 2016 update of the 1994 report containing an extensive history and review of fluoride exposure and oral health. Below are just a few of the relevant conclusions:
—> "Since [1945] hundreds of millions of people worldwide have regularly consumed artificially fluoridated water: currently around 380 million, plus approximately 50 million whose drinking water supplies naturally contain optimal fluoride concentrations"
—> "Studies from many different countries over the past 60 years are remarkably consistent in demonstrating substantial reductions in caries prevalence as a result of water fluoridation. One hundred and thirteen studies into the effectiveness of artificial water fluoridation in 23 countries conducted before 1990, recorded a modal percent caries reduction of 40 to 50% in primary teeth and 50 to 60% in permanent."
—> "More recently, systematic reviews summarizing these extensive databases have confirmed that water fluoridation substantially reduces the prevalence and incidence of dental caries in primary and permanent teeth. Although percent caries reductions recorded have been slightly lower in 59 post-1990 studies compared with the pre-1990 studies, the reductions are still substantial."
—> "The question of possible adverse general health effects caused by exposure to fluorides taken in optimal concentrations throughout life has been the object of thorough medical investigations which have failed to show any impairment of general health."
—> This review has a very complete description of the actions and benefits of fluoridation, and is an excellent source to help understand the scientific consensus.
http://www.who.int/oral_health/publications/2016_fluoride_oral_health.pdf

Australia's National Health and Medical Research Council (NHMRC) has been researching fluoridation for more than 60 years, and released its latest findings in September 2016 which concluded:
—> "Water fluoridation within the current recommended range in Australia (0.6 to 1.1 mg/L) is effective in reducing the occurrence and severity of tooth decay in children, adolescents and adults. In Australia, water fluoridation within this range can be associated with an increase in dental fluorosis. This is often not readily visible and it has no effect on the function of teeth. There is no evidence that water fluoridation within the current Australian range is associated with any adverse health effects."
https://www.scimex.org/__data/assets/file/0017/106523/16399-NHMRC-Fluoride-Information.pdf

Some additional resources
http://ilikemyteeth.org/fluoridation/
http://americanfluoridationsociety.com/home/
http://bfsweb.org/
http://msof.nz/
http://ada.org/en/public-programs/advocating-for-the-public/fluoride-and-fluoridation
http://cdc.gov/fluoridation/index.html
http://Scientificamerican.com/article/a-plan-to-defend-against-the-war-on-science/
http://ngm.nationalgeographic.com/2015/03/science-doubters/achenbach-text
https://neuroanthropology.net/2010/04/25/be-afraid-america-be-very-afraid-the-effect-of-negative-media/

---
3 - Anti-Vaccination: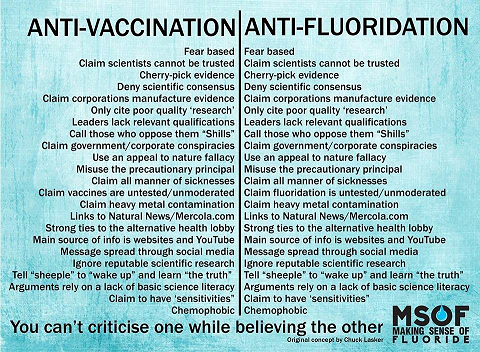 There are probably few medical issues more thoroughly researched than vaccines. There are some risks, as there are with any human activity, but the I evidence I have seen demonstrates that the benefits of vaccination far outweigh any risks.
I suppose it is possible that:
the scientific consensus is completely and catastrophically wrong.

nearly all experts in the field are unable to perform and interpret valid research and have produced false evidence.

nearly all experts in the field have failed to notice quality studies that conflicted with their beliefs but clearly prove that harm of vaccinations.

nearly all experts in the field are part of a despicable conspiracy with the government to promote programs that deliberately and knowingly harm citizens.

the overwhelming majority of practicing scientists and health care professionals who are members of the scientific and health organizations that support vaccination are equally misinformed, ignorant and culpable of deliberately deceiving and harming the population.

the only ones who can be trusted are the relatively few individuals who claim the consensus is wrong.
I choose to accept the scientific consensus that the benefits of vaccination are far greater than any risks. In order to change a firmly established scientific consensus supported by decades of research, reproducible evidence of exceptional quality is required. I have not seen such scientific evidence. When I examine anti-V "evidence" I find exactly the same type of distortions (poor quality studies, conclusions that are taken out of context or 'edited') that I find in the anti-F propaganda and anti-CC arguments.
World Health Organization: Vaccine Safety
2013 IOM Childhood Immunization Schedule and Safety
Summary of 2013 IOM report
Vaccine Studies Examine the Evidence
Systematic Review of Vaccine Safety
AMA: Physicians agree: vaccination crucial to public health
CDC: Vaccine Safety
Australian Government Department of Health: Safety of Vaccines
Health Canada: Don't Wait, Vaccinate!
General vaccine safety and science
Vaccine & Autism Research
What's the real reason Britons aren't offered the chickenpox vaccine?

---
4 - Climate Change Deniers: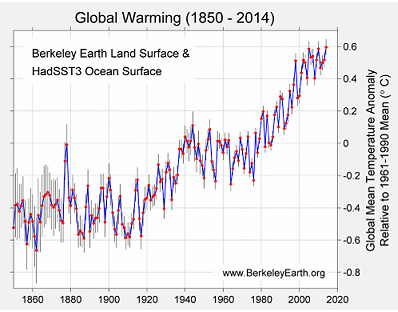 Berkeley Earth has constructed an estimate of the global average temperature during 2014, including land and sea. The key findings are:
The global surface temperature average (land and sea) for 2014 was nominally the warmest since the global instrumental record began in 1850; however, within the margin of error, it is tied with 2005 and 2010 and so we can't be certain it set a new record.
For the land, 2014 was nominally the 4th warmest year since 1753 (when the land surface temperature record began)
For the sea, 2014 was the warmest year on record since 1850
For the contiguous United States, 2014 ranked nominally as the 38th warmest year on record since 1850.
The Simple Proof of Man-Made Global Warming - "Today I'm going to talk about some simple factual observations that anyone can make, that unambiguously prove human activity is driving warming of the Earth. I'm not going to mention climate models, politics, predictions, economics, or how many scientists agree or disagree — any of the topics on which there is debate. I'm only going to share a few of the most solid basics, the results of absolute measurements, over which there is no debate. These are the things nobody disagrees with, but so few people understand. Despite its contentious topic, this episode is intended to be — and should be — completely non-controversial."
Chasing Ice Documentary: "Chasing Ice is the story of one man's mission to change the tide of history by gathering undeniable evidence of our changing planet. Within months of that first trip to Iceland, the photographer conceived the boldest expedition of his life: The Extreme Ice Survey. With a band of young adventurers in tow, Balog began deploying revolutionary time-lapse cameras across the brutal Arctic to capture a multi-year record of the world's changing glaciers."
Extreme Ice Survey: "Founded in 2007 by James Balog, the Extreme Ice Survey (EIS) is an innovative, long-term photography program that integrates art and science to give a "visual voice" to the planet's changing ecosystems. We believe that the creative integration of art and science can shape public perception and inspire action more effectively than either art or science can do alone."
97.2% of papers on climate change assumed humans play a role in global warming - "That humans are causing global warming is the position of the Academies of Science from 80 countries plus many scientific organizations that study climate science. More specifically, around 95% of active climate researchers actively publishing climate papers endorse the consensus position."
Explaining climate change science & rebutting global warming misinformation - "Scientific skepticism is healthy. Scientists should always challenge themselves to improve their understanding. Yet this isn't what happens with climate change denial. Skeptics vigorously criticize any evidence that supports man-made global warming and yet embrace any argument, op-ed, blog or study that purports to refute global warming. This website gets skeptical about global warming skepticism. Do their arguments have any scientific basis? What does the peer reviewed scientific literature say?"
How to Determine the Scientific Consensus on Global Warming - "An academic feud swirls around how best or even whether to express the scientific consensus around climate change."
Scientific consensus: Earth's climate is warming - "Climate change is real. There will always be uncertainty in understanding a system as complex as the world's climate. However there is now strong evidence that significant global warming is occurring. The evidence comes from direct measurements of rising surface air temperatures and subsurface ocean temperatures and from phenomena such as increases in average global sea levels, retreating glaciers, and changes to many physical and biological systems. It is likely that most of the warming in recent decades can be attributed to human activities." (2005, 11 international science academies)
Scientific Consensus on Global Warming - "Scientific societies and scientists have released statements and studies showing the growing consensus on climate change science. A common objection to taking action to reduce our heat-trapping emissions has been uncertainty within the scientific community on whether or not global warming is happening and if it is caused by humans. However, there is now an overwhelming scientific consensus that global warming is indeed happening and humans are contributing to it."
No, climate scientists are not manipulating their data - Discussion of an "article, written by Christopher Booker (who flat out denies human-induced global warming), is somewhat subtly titled "The Fiddling With Temperature Data Is the Biggest Science Scandal Ever." In it, Booker claims that climate scientists have adjusted temperature readings from thermometers in Paraguay to make it look like the temperature is increasing, when the measurements off the detectors actually show the opposite. The theme of the article is that scientists "manipulated" the data on purpose to exaggerate global warming." The comments are interesting and demonstrate exactly the same pattern of consensus deniers as found in comment sections of articles about fluoridation, vaccination or other science issues that are controversial in the public view but not from the perspective of most scientists.
Common Denier Arguments - "Deniers continue to repeat several arguments long after they have been debunked by experts. In the past, deniers have contended (and some continue to argue) that the world is not warming."
The 97% consensus on global warming, "Science achieves a consensus when scientists stop arguing. When a question is first asked – like 'what would happen if we put a load more CO2 in the atmosphere?' – there may be many hypotheses about cause and effect. Over a period of time, each idea is tested and retested – the processes of the scientific method – because all scientists know that reputation and kudos go to those who find the right answer (and everyone else becomes an irrelevant footnote in the history of science). Nearly all hypotheses will fall by the wayside during this testing period, because only one is going to answer the question properly, without leaving all kinds of odd dangling bits that don't quite add up. Bad theories are usually rather untidy."